Ergonomic mats for standing workstations prevent signs of fatigue in feet and legs and protect the back
ERGOLASTEC® fatigue mats for less pain
Our ERGOLASTEC® anti-fatigue mats are particularly suitable for standing workstations because they stimulate movement and thus reduce leg and foot fatigue. The fatigue mats are made of a high-quality and durable material that provides excellent shock absorption. At the same time, this is easy on the joints, reduces fatigue, promotes blood circulation and is beneficial to back health.
Higher work productivity, reduced risk of injury
By using an ERGOLASTEC@ anti-fatigue mat, physical stress in the workplace is reduced, resulting in higher worker productivity and a reduced risk of injury. In addition, these workplace mats offer excellent slip resistance and, thanks to their nature, enable effective cleaning and maintenance. ERGOLASTEC® anti-fatigue mats offer numerous benefits and help to improve the well-being and health of your employees. They are available as anti-fatigue mats and ESD mats in the versions ERGOLASTEC® VARIO , ERGOLASTEC® VARIO plus , ERGOLASTEC® BASIC and as ERGOLASTIC® OIL .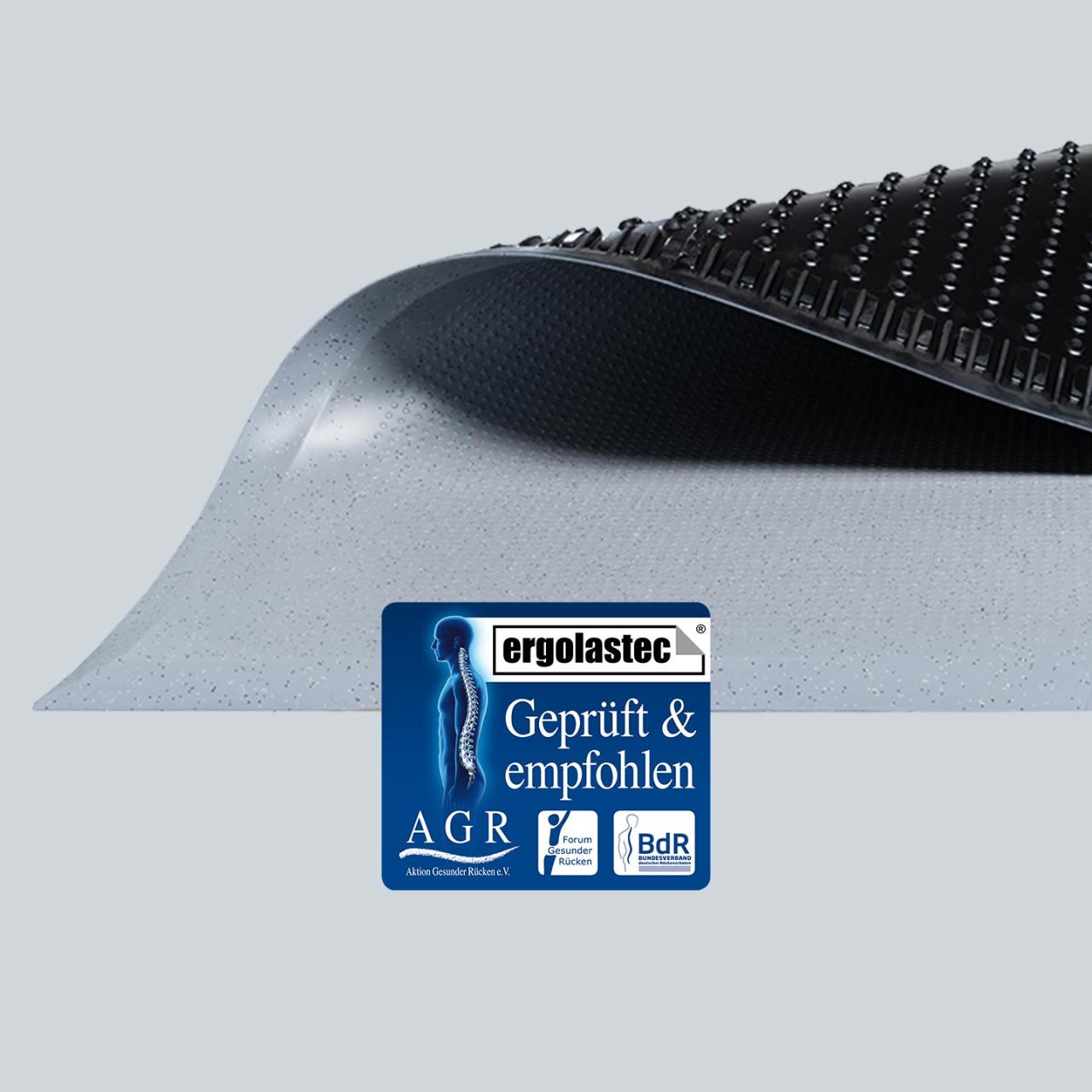 Benefits of an anti-fatigue mat
Better employee health:

 

Avoids fatigue and stress thanks to the padded, flexible surface that supports the body with a slight spring

 

Products can help

 

improve safety

 

by

 

reducing

  

slips and trips

 

on slippery or uneven floors

Improving productivity

 

by reducing physical fatigue and maintaining concentration

 

Improving health by

 

reducing back pain, foot pain and circulatory problems

 

Anti-fatigue mat is

 

easy to clean and maintain

 

, which increases its durability and longevity

 

Work mat suitable for

 

workbenches, assembly lines, assembly tables, laboratories, counters and cash registers

 

Dampening hemispheres

 

activate blood circulation

 

and relieve

 

pressure through compensating movements

 

Versatile

  

Strong, high-quality material of the work mat

 

protects against unhealthy floor cold

  

AGR seal of approval

 

(can reduce downtime and increase employee productivity)

 

Durability:

 

Suitable for multi-shift operation

 

Anti-fatigue mat in standard sizes or sold by the metre

 
For which environment are anti-fatigue mats suitable?
An anti-fatigue mat is particularly useful where employees have to stand or walk on hard, uneven or cold surfaces for long periods of time, but still need to stay healthy, flexible, focused, warm and pain-free. Here are some selected examples:
Production facilities:

 

In factories and workshops, workers who have to stand at machines for long periods benefit from anti-fatigue mats.

 

Each mat at the standing workstation helps to reduce pressure on feet, knees and joints and promote blood circulation.

 

They are also available as fire-resistant, oil-repellent or anti-static mats for particularly risky work areas.

 
 

Retail:

 

Salespeople benefit from an anti-fatigue mat when they are on their feet all day.

  
 

Kitchens and gastronomy:

 

Cooks and staff who stand on tiles or concrete floors for a long time can really use a mat for the standing workstation.

 
 

Laboratories:

 

Scientists and lab technicians who spend a lot of time standing at laboratory equipment or benches will benefit from an anti-fatigue mat because it can reduce pain and improve concentration.

 
 

Offices:

 

Those who use a standing workstation for a long time will reduce lower back and leg pain with a standing work mat.

 
How to find the right anti-fatigue mat
The selection of the right anti-fatigue mat depends on various factors, such as the type of activity that is carried out on the mat, the duration of the activity, the type of surface on which the mat is placed, the budget and other personal factors preferences. Here are some steps that can help you find the right anti-fatigue mat: 
The duration and type of movement influence the decision

  
Heat Resistant or Oil Resistant Fatigue Mat?

 
First, determine the purpose of the standing workstation mat. What activity should be carried out on it? Is it a static standing activity or one that involves a lot of rotating movements? Or is it a walking activity? Consider the duration of the activity. How long will your employees stand or move on the mat? If you are going to be on the mat for a long period of time, you should choose a mat that offers high levels of cushioning and support. 
Depending on the working environment, it can also happen that a heat-resistant (flying sparks) or oil-repellent surface (cooling lubricant, etc.) is preferable. Also consider the subsoil. Consider the nature of the floor on which the mat will be placed. Is it a hard concrete or tile floor? Then choose the right material: anti-fatigue mats are available in rubber, vinyl or foam. Rubber and vinyl are tough and easy to clean, while foam is lighter and softer.