The anti-static mat prevents injuries and damage from electronic discharge
ERGOLASTEC®-ESD protective mats against static discharge
Our anti-static ERGOLASTEC®-ESD workplace mats (Electrostatic Discharge) offer maximum comfort, combined with greatest possible safety. The area of application of these anti-static and anti-fatigue mats is, above all, where your work staff walk or stand in areas at risk from fire and electricity and an anti-static mat can offer protection for your employees.
This means: Where electrostatic discharges pose a threat to people or electronic components, an ESD mat from ERGOLASTEC® is the perfect choice for the floor. Sparking due to electrical discharges has no chance with these. Plus, that every ESD work mat carries the AGR seal of approval (Healthy Back Campaign). This means: Less strain, longer concentration, greater endurance. And: As an anti-slip mat, our ESD models ERGOLASTEC® VARIO plus are also convincing.
The electrically conductive workplace mat offers the best protection for static-free workplaces (electronics and micro-electronics workplaces) – even without additional ESD accessories. The ERGOLASTEC ESD rubber mats offer the ideal balance between a safe workplace and ergonomic comfort for high stress in an industrial environment. At the same time, the high-quality produced ESD mats activate the muscles and therefore contribute to the workers' well-being at standing workplaces. Our workplace mats promise: Less back pain, greater productivity. The AGR seal (Healthy Back Campaign) certifies this.
Of course, our ESD workplace mats with the fire protection class Bfl-s1 also contribute to work safety.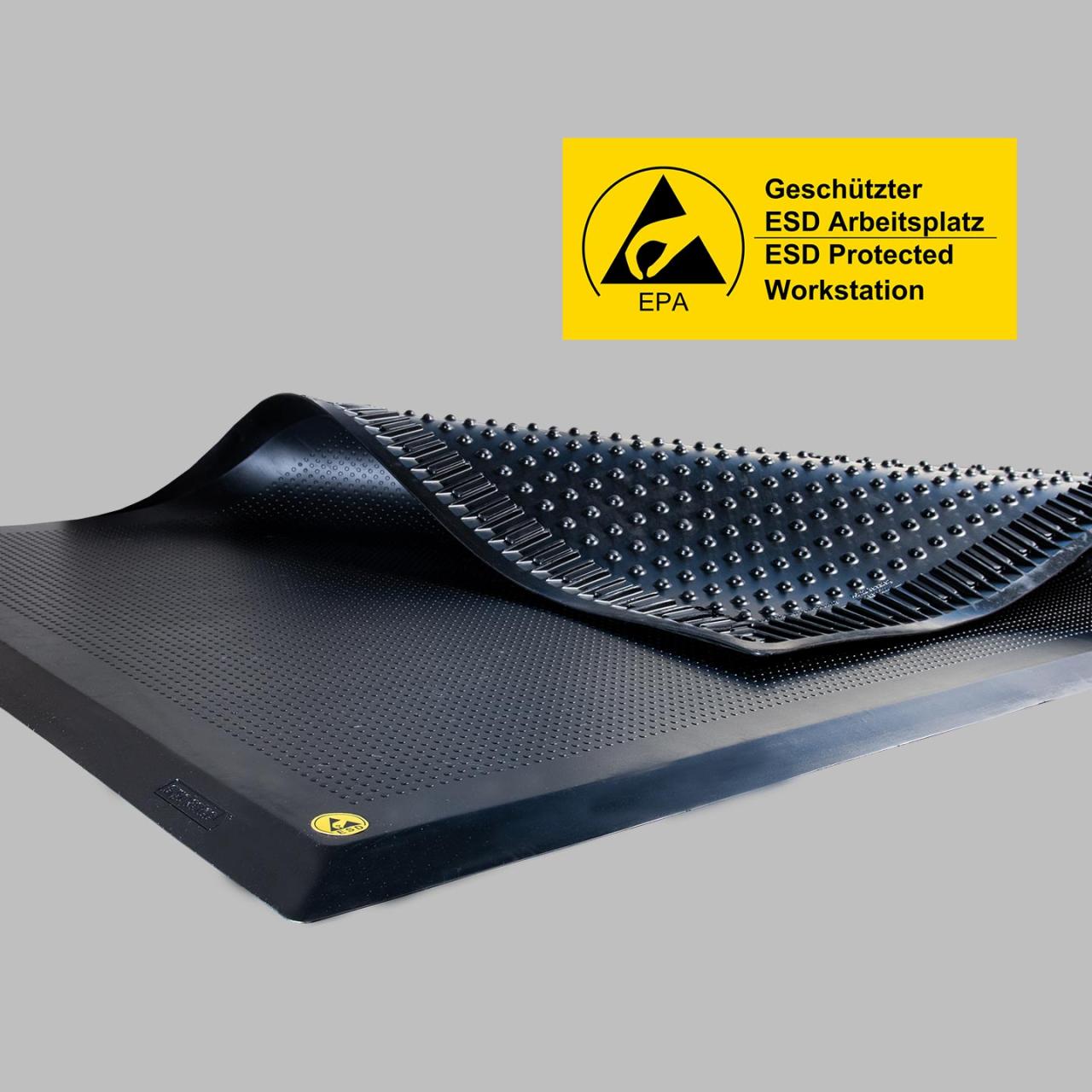 How does an ESD protection mat work?
An anti-static ESD workplace mat from ERGOLASTEC® serves to prevent electrostatic discharges with sensitive electronic components. The anti-static mat is earthed and is made of a conductive material that dissipates static electricity and therefore prevents electrostatic charges from building up. Workplace mats are normally made of rubber coated with a conductive material. The surface is slip-proof, ergonomic and should be cleaned regularly to ensure proper functioning.
Advantages of the ERGOLASTEC® ESD workplace mats:
Antistatic mat prevents electrostatic discharge
Protection against electrical shock, especially in high electrical risk environments.
Prevention of sparking, which can be dangerous in explosive or flammable areas
Antistatic ESD mat improves workplace safety by reducing the risk of electrostatic discharge accidents
ESD workplace mat reduces dust build-up and static attraction of dirt on surfaces
Protection of sensitive materials and devices that can be damaged by electrostatic discharge
ESD work mat for workbenches, assembly lines, assembly tables, laboratories, counters and cash registers
Dampening hemispheres activate blood circulation and relieve pressure through compensating movements
Easy cleaning, versatile
Strong, high-quality material of the work mat protects against unhealthy cold
AGR seal of approval (can reduce downtime and increase employee productivity)
Durability: Suitable for multi-shift operation
What causes static charging at the workplace?
Static charging is usually caused by friction between different materials. In the working environment, this might be rubbing of shoes on carpets or clothing on chairs. Static charging can occur when working with electronic components as well as when handling plastics. If they occur uncontrolled, they lead to undesirable effects such as sparking, discharge or malfunctioning of sensitive equipment. Measures such as the use of conductive floorings can be taken to minimise these risks.
What risks does the ESD mat eliminate?
The ERGOLASTEC®-ESD floor mat was developed primarily to prevent the occurrence of static electricity and thus reduce its risk for persons and equipment. But they also contribute a lot more towards a safe workplace.
Prevention of damages to sensitive electronic devices and components, e.g. in the electronics or semiconductor industry, by electrostatic discharge

Prevention of the fire risk from static electricity in working environments with inflammable materials such as chemicals, gases or dust

Prevention of electromagnetic interferences which impair or destroy electronic devices

Effective floor mat against risk of slipping

Reduce signs of fatigue in joints and muscles or the legs and feet

Improve powers of concentration
For what working environment is an ESD mat suitable?
An anti-static ESD floor mat is suitable for working environments in which electrostatic charges are a great risk. This applies for different branches, for example electronics production, the medical sector, the chemical industry or areas in which inflammable materials are handled. In such working environments, electrostatic charges cause sparks which can ignite explosive or inflammable materials. An anti-static ESD floor mat prevents charging of persons and objects and dissipates the electrostatic charge.
Order your ergonomic ESD test mat today
Have we convinced you of our workplace mats for standing workstations? Would you like to order your ergonomic ERGOLASTEC®-ESD floor protection mat for testing? Then ask for your shock-absorbing workplace mat today and benefit from the highest quality. For almost every application area. For healthier joints and a better posture. Your staff will be grateful.